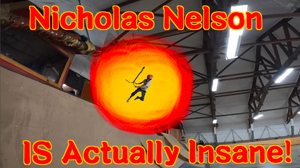 Nicholas Nelson Messes Around At All In Skatepark
Story behind this video:
Connor - "Nicholas, here's a GoPro. Film something"
Nicholas - "Okay"
For a spur of the moment decision like that, this video turn out pretty funny and Nicholas obviously rides this park like no other human before. This video is packed with hilarious content and bangers for days! If you'd like to come ride with Nicholas, check put @allinactionsports on instagram and @nicholasnelson to find out when he's going to be at the park!
---
9 comments