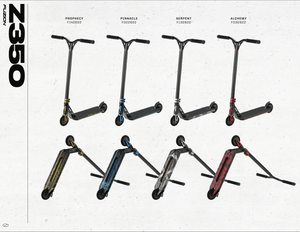 Fuzion 2022 - Product Review
Its that time of the year again where every company is coming out with their new complete scooters and scooter parts. This year we are stocking up on the brand new 2022 Fuzion line up and boy oh boy are we excited!
First up is the Fuzion 2022 Z350 Complete Line Up:
The 2022 Fuzion Z350's are here in 4 amazing colour ways! First off we have the black and gold colour way called the Prophecy, second his the black and blue called the Pinnacle, next is the black and silver colour way called the Serpent, and finally we have the black and red called the Alchemy! The Z350s are mainly for riding park. The dimensions on the deck make it perfect for throwing tail whips super fast and makes for some snappy kicklesses! It's super light so its great for beginners to learn new tricks, and with its new reinforced head tube design, its super strong and durable for the more advanced riders. 
Price:

 

$299.99
Weight:

 

7.18 lbs
Deck Width: 5"
Deck Length:

 

19.5"
Deck Weight:

 2.9

lbs (with Brake/Hardware)

Deck Material: 6061 T6 Aluminum
Headtube Angle: 83 Degrees
Deck Concave: 5°
Fork Material: Aluminum
Compression:

 

IHC
Clamp Style:

 

2-Bolt Clamp
Bar Shape: Dip Bar with Supports
Bar Material: Aluminum
Bar Height: 24.5"
Bar Width:

 

22"
Outer Bar diameter:

 Oversized

Inner Bar diameter:

 

Standard
Wheel Size: 110mm Hollowcores
Wheel Width:

 

24mm
Fits Wheel Size Range:

 

Up to 120mm
PU Hardness:

 

88a
Bearings:

 

Fuzion ABEC-9
Brake: Nylon/Steel Brake
TOOLS AND HARDWARE INCLUDED
Up next is the 2022 Z350 Box ends:
The 2022 Z350 with boxed ends is here! This scooter is mainly based for street, but is light enough to be called a hybrid scooter. The bars on this complete come a little taller then the bars on the Z350, which makes it super comfortable for cruising through the streets. With the 5' wide deck, the foot space feels amazing. Same as the Z350, this deck also com es with the new reinforced head tube so its super strong and durable. Perfect for jumping down big stairs sets and grinding rails.
Price:

 

$319.99
Weight:

 8.8

 lbs
Deck Width: 5"
Deck Length:

 

20.5"
Deck Weight:

 3.3

lbs (with Brake/Hardware)

Deck Material: 6061 T6 Aluminum
Deck Concave: 5°
Headtube Angle: 83 Degrees
Fork Material: Aluminum
Compression:

 HIC

Clamp Style:

 

2-Bolt Clamp
Bar Shape: Dip Bar with Supports
Bar Material: Oversized Chromoly Steel
Bar Height: 26"
Bar Width:

 

23"
Outer Bar diameter:

 Oversized

Inner Bar diameter:

 

Oversized
Wheel Size: 110mm Hollowcores
Wheel Width:

 

24mm
Fits Wheel Size Range:

 

Up to 120mm
PU Hardness:

 

88a
Bearings:

 

Fuzion ABEC-9
Brake: Nylon/Steel Brake
TOOLS AND HARDWARE INCLUDED
---
14 comments