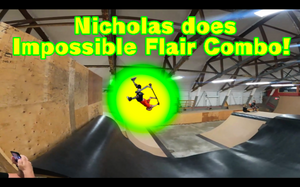 Camp All In Episode 4
Week 2 has started at All In Skatepark's Summer Camp and boy what a week! On the first day all the kids went hard! So many bangers were thrown already on the first day. We could already tell it was going to be a crazy week. Nicholas Nelson was trying a flair combo I didn't even think was possible. I will never understand what goes on inside that's kids head. Landon, a camper from Woodstock, did drink off the rest wall into the rest which is about 16-18 feet tall. It was no jump to message around with. It was so crazy and the energy of all the kids was amazing. Just like week 1, all the kids were so pumped to ride all week and progress so much! We hope you enjoy the episode and hope to see you at camp next year!
To register for camp Click Here!
---
13 comments